It's the life of a « Petite Bonne Femme » like the others …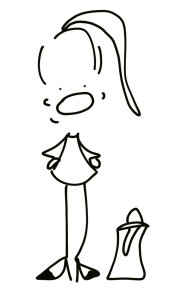 « Petite Bonne Femme » wakes up, catches the good mood in the air, she rises the right way to start her day after she goes to work, to school, to the office everything is beautiful or not always funny, no matter what that's the way it is, there's ups and downs.
Sometimes it's hard, so she must do well. She takes time to breathe during the day, everything is so complicated, even if it is a race, she takes a break. Fun moments that are good, and necessary.
She seeks to take life on the bright side.
She eats healthy and balanced, but she knows excess too !
She fells good in her body, in her head, in her sneakers !
She plays sports regularly, does things she likes; time for herself,  it's essential.
She goes out a lot : lunches, dinners, aperitifs, restaurants, exhibitions … "metro-boulot-dodo".
She also moves a lot : weekend, trips, but she also needs calm …
She lives her life like she wants, does what she can to do what she wants, in any case, she does her best !
Every night Little « Petite Bonne Femme » falls asleep exhausted by her day with a smile on her lips …
"Good night sweet dreams sleep well, thank you to you too, thank you. Sweet dreams. "